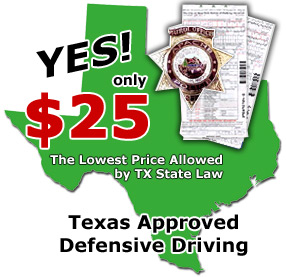 Texas On-line Defensive Driving Program Information
Trouble-free Online Defensive Driving
Certificate Of Completion Processing For Free
Positively No Concealed Costs
Up To 10% Insurance Reduction For Taking Our Defensive-driving Program
Just $25 - Most Discounted Price Allowed By Texas Law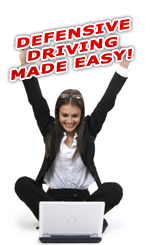 POSITIVELY NO CONCEALED COSTS
Be confident that you will never pay any hidden charges when you take a Texas defensive-driving program with InteractiveTrafficSchool.Com. We won't charge you for Certificate of Completion processing and we supply free standard Certificate of Completion shipping. Got a problem? Call our live support who are always ready to assist.
ACCEPTED BY THE TX DEPT OF PUBLIC SAFETY - TEXAS EDUCATION AGENCY
Our online defensive driving programs are accepted by the Texas DPS | Texas Education Agency (TEA) - so regardless of where you live in Texas, our on-line traffic fine course will be accepted!
NEVER COMMUTE TO A DULL DEFENSIVE DRIVING CLASS-ROOM
Regardless of whether you have been given traffic school by a Texas court or you simply want to hone your Texas defensive driving skills, InteractiveTrafficSchool.Com has an outstanding course for you! Our TX defensive-driving program is entirely on the internet so you don't spend days in a classroom.
MADE FOR YOUR BUSY CALENDAR
Our full TX Defensive Driving program is offered on line through InteractiveTrafficSchool.Com. Because it is entirely on line, you can take it at your own convenience without any problems.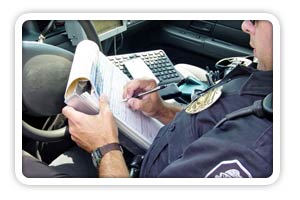 A True TX Defensive Driving Leader
InteractiveTrafficSchool.Com has joined up with the forerunner in the online defensive-driving business: The Online Traffic School, Inc. When you select InteractiveTrafficSchool.Com, you get TX Defensive Driving at a economical price and the InteractiveTrafficSchool.Com guarantee - the preferred Texas state approved Defensive Driving course available - now that's TX defensive-driving you can put your trust in!

Defensive Driving You Can Afford
Now you can enjoy our Texas defensive-driving for as low as $25